Free Fire fans are super excited about the game's comeback. One of the reasons behind this is the collaboration in the game with the former Indian cricketer Mahindra Singh Dhoni. A new 'Thala' character inspired by MS Dhoni in Free Fire is the current talk of the town.
So, in this article, we are going to discuss the Thala character's details, in-game ability, and rewards based on this new character. Also, this collaboration will bring a lot of new things to the game, making it more exciting and interesting.
Details and ability of the Thala character in Free Fire
Thala character is going to make its debut in the game with the launching of Free Fire India. Firstly, Free Fire is scheduled to be launched on 5 September 2023, but the release of the game was postponed to a new date. However, the release date has yet to be confirmed, but we hope the game will be released soon.
The new Thala character will have an active skill, and the name of its ability will be Wall of Flame. This ability will be a little bit similar to a Gloo wall. When your foes pass within this wall of flame, they will experience a damage of 5hp. Moreover, this wall will appear for 15 seconds only.
When you put this wall, your enemies will be unable to see you, and you won't see them. So this way, you will be able to use this wall to play a trick on your enemies.
New Rewards in Free Fire
Along with the new Thala character in Free Fire, you will also see some of the new and exciting rewards that are going to launch with the game. The list of the rewards based on the theme of 'Thala' is as follows.
Motorbike Skin (Motorbike skipper's Chopper)
Wall of Calm (Gloo wall)
Helicopter Shot (Emote)
Grenade Skin (Toe Crusher)
Free Hit Pan Skin
Bat Skin (Mahi's willow)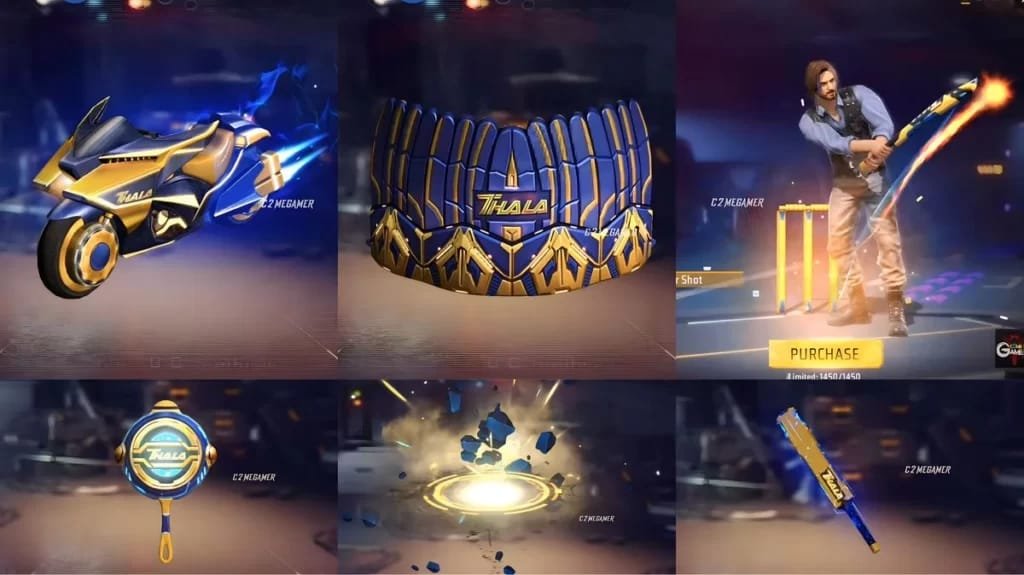 Besides these rewards, some other rewards are also expected, and the list is mentioned below.
Back Pack skin (Captain's Kit)
Helmet Skin 1 (Cool Head Helmet)
Loot Box (The Ashes)
Skateboard skin (Glide To Glory)
Thala Bat Token
Super Cricketer Banner
Thala Mystery Gift
Thala Cricket Ball Token
Thala Bobblehead
Super Cricketer Avatar
So these are the rewards that are associated with the new Thala character in Free Fire. We all are super excited to see Thala in the game as soon as possible. Also, we know that MS Dhoni is the Brand Ambassador of Free Fire India. But the Thala character is expected to be launched on all the Free Fire servers.
Disclosure: This post contains amazon affiliate links. When you buy through links on our website we may earn an affiliate commission.