If you're seeking to make your character according to your need and want to know about which are the 5 best magic cube bundles. You are at the right place, keep reading this article we're going to discuss "5 best magic cube bundles in Free Fire".
Magic Cube is a special item in Free Fire, you can get Magic Cube from the in-game store or special events. If you're having enough magic cube fragments, and you want magic cube bundles, then just convert them into cube bundles.
List of 5 best magic cube bundles in Free Fire
5. Violet Flame Bundle
This bundle was first released in 2019 at Diamond Royal. It is an attractive violet-colored Female bundle. You can try this bundle with others and be able to make many visual appeal of your character on your own.
It includes :
Violet Flame (Head)
Violet Flame (Shoe)
Violet Flame (Top)
Violet Flame (Bottom)
4. Bandit Bundle
The Bandit Bundle is one of the most popular packs that were available in the Diamond Royale section of the Luck Royale. You can get it by exchanging the magic cube.
It includes :
Bandit Bundle (Mask)
Bandit Bundle (Top)
Bandit Bundle (Bottom)
Bandit Bundle (Shoes)
3. Hipster Bunny Bundle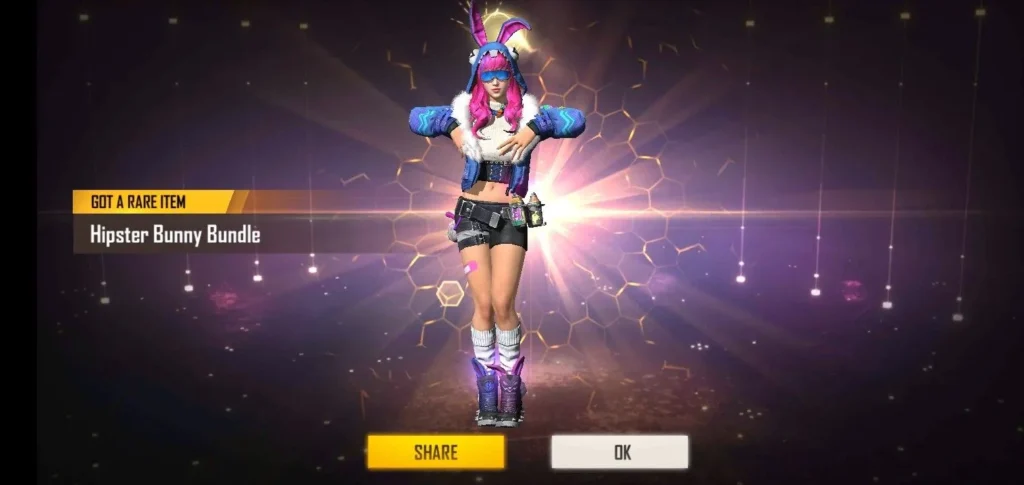 The Hipster Bunny Bundle is a beautiful female costume and it is always on the list of players. It was added in April 2020 at Diamond Royale. The bundle comes with a pink and blue theme and illuminating shoes giving it a different attraction.
The Bundle comes with :
Hipster Bunny (Head)
Hipster Bunny (Mask)
Hipster Bunny (Top)
Hipster Bunny (Bottom)
Hipster Bunny (Shoes)
2. Mystic Seeker Bundle
Mystic Seeker Bundle costume is inspired by eastern monks. The final character takes the look of cyber-monk-warrior who wears the attractive armor costume with a mysterious set of mask and hat.
The components of the bundle includes :
Mystic Seeker (Head)
Mystic Seeker (Mask)
Mystic Seeker (Top)
Mystic Seeker (Bottom)
Mystic Seeker (Shoes)
Night Clown Bundle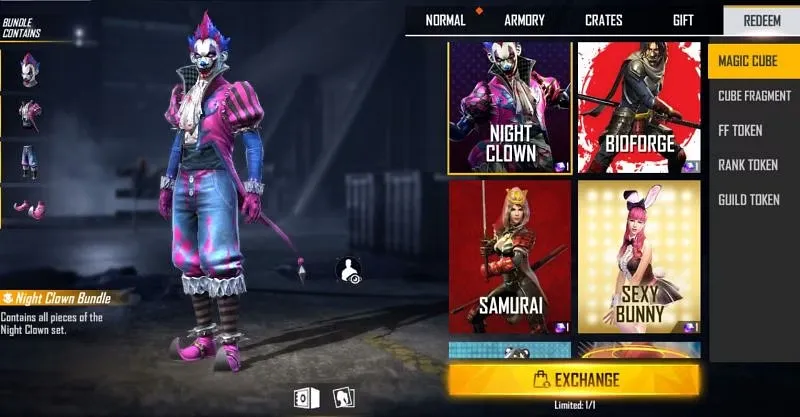 This bundle was initially offered in 2018, at Diamond Royale. And right after it was released, it has since become one of the largely sought-after cosmetic items. The bundle will be available in the Magic Cube store, and you should not miss out on the opportunity.
The bundle comes with :
Night Clown (Head)
Night Clown (Top)
Night Clown (Pants)
Night Clown (Shoes)
These 5 are the most attractive Free Fire bundle which can be purchased with magic cube.
4 Simple Ways To Get Free Redeem Codes in Free Fire
Disclosure: This post contains amazon affiliate links. When you buy through links on our website we may earn an affiliate commission.