In Free Fire, diamonds are one of the most sought-after commodities around. They can be used to buy skins, emotes, new characters and more! For you to be able to get cheap diamonds in Free Fire, you'll have to get them by either winning them in a match, or by buying them.
When buying diamonds, it is important to get them at the best price possible so you don't spend too much money.
In this article, we'll share 3 ways to get cheap diamonds in Free Fire 2022.
3 Ways To Get Cheap Diamonds In Free Fire 2022
WinZO
Winzo app helps you get the best deals on diamonds for free fire. The app works on a simple and easy to use interface. It allows you to search for the cheapest deals available. You can also use the app to get special deals and free items.
Here's how you can get the diamonds:
Download the WinZO Gold app from the play store.
Create an account using your Gmail account in the app.
Navigate to the WinZO store in the home dashboard.
You'll see two options – Free Fire Diamond Pins and Free Fire Diamond POP-UP.
Within the diamond pins tab, you can choose a specific diamonds pack that ranges between 79-1575. After you've made your selection, click on Buy now and pay using your preferred payment method. You'll get a unique coupon code that you can then use to redeem diamonds.
Go to wallet > transactions > my purchase to get access to your coupon code.
Click on copy and redeem coupon and then open the Gerena Free Fire website.
Log in using your player ID.
While purchasing diamonds, select payment method > Garena Prepaid Card.
Enter the Redeem Code (Garena Prepaid Card PIN).
Click on confirm to complete the transaction.
Your Free Fire account will start showing the purchased diamonds within a few seconds.
Codashop
Codashop is most sought-after by Free Fire players for obtaining the in-game currency due to the additional offers provided by it. The best thing about Codashop is that it requires minimal user effort in order to receive the items one desires for their game.
Players are not required to register or login on the website, then can directly buy diamonds using their Player ID.
Follow this step by step instructions to purchase diamonds from Codashop:
Visit the official Codashop website.
Tap on the Free Fire game icon and then enter your Player ID.
Choose the desired number of diamonds along with the preferred payment method.
After you successfully complete the transaction, the diamonds will be automatically credited in your account.
Here's how the diamonds are priced at Codashop:
INR 40 – 50 Diamonds
INR 80 – 100 Diamonds
INR 240 – 310 Diamonds
INR 400 – 520 Diamonds
INR 800 – 1060 Diamonds
INR 1600 – 2180 Diamonds
INR 4000 – 5600 Diamonds
Weekly Membership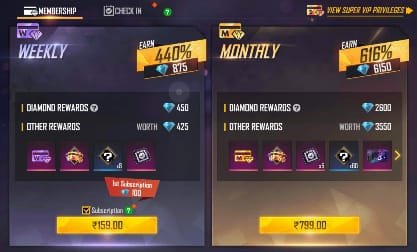 Weekly memberships in Free Fire have been revamped, and users who purchase them get a bigger bang for their buck. Users who buy a weekly membership receive access to an exclusive deal that includes more diamonds and other items as well.
While purchasing 310 diamonds from the store costs you 250?, a weekly membership costs only 159? and provides you 450 diamonds.
Here's how you'll get the diamonds through weekly membership:
100 diamonds as soon as you complete the payment.
Sign in each day to claim the remaining 350 diamonds. (50 per day)
Apart from things, players get access to additional benefits such as:
Weekly Member Icon
Discount store privilege
Universal EP Badge
Second Chance (Used to make up for missed diamond check-in)
Summing Up
There are a lot of ways through which you can get cheap diamonds in Free Fire. With this knowledge, you can make the most of your game time and become a better player by being able to afford all of your favorite skins.
You can learn how to redeem Free Fire codes by reading this article here and enjoy your game even better.
Disclosure: This post contains amazon affiliate links. When you buy through links on our website we may earn an affiliate commission.