Garena recently revealed the Free Fire Pro League rewards and the date of the new redeem code. I will tell you the details about these rewards, FFPL redeem code date and this blog's exact milestone numbers.
Here is the FFPL Redeem Code for 500k live watching FFPP72XC2SWE.
What is FFPL?
The complete form of FFPL is Free Fire Pro League; Garena organizes this league every year in the winter and summer seasons. The ongoing winter FFPL was started on 8th January 2022, and it will end on 30th January 2022.
The grand final of FFPL Winter Season 2021 will be played on 30th January. Total 11 teams are qualified for the Grand Finals, including Total Gaming Esports, Team Chaos, Godlike Esports, Nigma Galaxy, TSM, Revenant Esports, Chemin Esports, PVS Gaming, Auro Gaming Esports, and Assassin's Army Esports.
Which team are you supporting for the finals? Let us know in the comment section.
Free Fire Set Milestone For FFPL live Watching
The grand finals of FFPL will be broadcast on the Youtube channel of Free Fire Esports India. Garena Free Fire set a 300k, 400k, and 500k live watching milestone for these rewards.
300k Live Watching Rewards FFPL
Free Fire users will get a 3x gold voucher on 300k life watching on FFPL. Users can claim these vouchers on their mailbox one Free Fire will achieve the milestone of 300k live watching.
400k Live Watching Rewards FFPL
On reaching the 400k live watching milestone, Free Fire will give an exciting reward to all users. This reward is none other than our favourite pet "Spirit Fox – Battle Fox."
500k Live Watching Rewards
If the live watching of the FFPL grand final will cross the 500k viewers, then Garena Free Fire will give four reward options to all users. These rewards are respectively Otho character, Wiggle Walk Emote, Flaming Red Ak Gun Skin and Spirit Fox.
All these rewards can claimed by a token. The users will get this token through a redeem code. The FFPL redeem code will given by Free Fire through their Instagram account. Users will get only one token from the redeem code, which they can use to claim the above rewards.
However, players can claim only one reward from the above four rewards.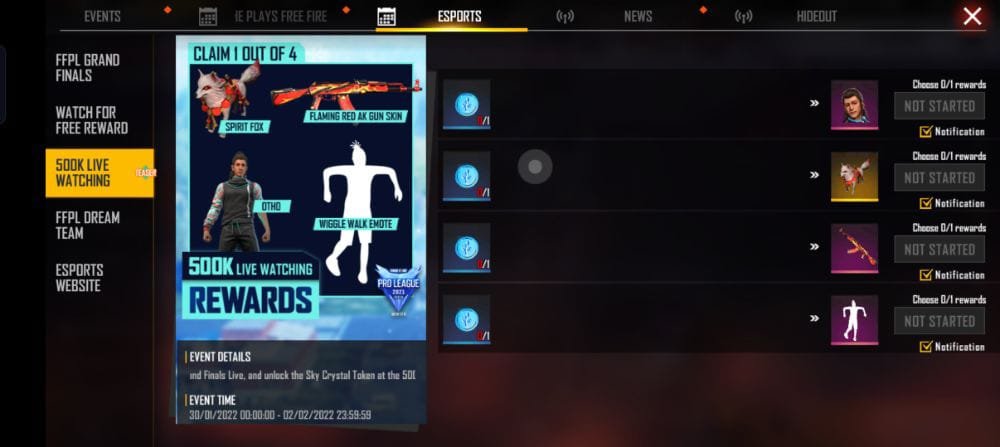 When will Garena Free Fire release the FFPL live watching redeem code?
Garena Free Fire will release redeem code on 30th January 2022. Redeem code will be released when FFPL achieve the 500k Live watching milestone. The expected time is around 8 PM to 12 AM.
We will try to give the Free Fire Pro League redeem code to our readers whenever Garena Free Fire releases.
Follow our Instagram Page and Subscribe to our Email Box to get the redeem code.
[jetpack_subscription_form show_subscribers_total="false" button_on_newline="true" custom_font_size="16px" custom_border_radius="0″ custom_border_weight="1″ custom_button_width="100%" custom_padding="15″ custom_spacing="10″ submit_button_classes="has-background has-vivid-red-background-color" email_field_classes="" show_only_email_and_button="true" success_message="Success! An email was just sent to confirm your subscription. Please find the email now and click 'Confirm Follow' to start subscribing."]
Disclosure: This post contains amazon affiliate links. When you buy through links on our website we may earn an affiliate commission.