If you are also someone who is looking for some creative ideas in Minecraft, then you're at the right place. As we all know, how important are the doors in the buildings of Minecraft? So this article will help you to make a door in Minecraft.
Minecraft made its first appearance back in August 2019. Since then, the game has gained a lot of popularity. Minecraft is a creative and survival-style game. The more creative you're, the more it will be fun to play the game.
Why build doors in Minecraft
We all know that the main modes of Minecraft are Creative and Survival. Moreover, in survival mode, you must find your own food and building supplies and interact with mobs. That's why to save yourself from hostile mobs, you need to make a door in every house you make.
Next, you should know that you can make doors of two varieties: iron and wooden. The iron doors are much more solid than the wooden doors. However, wooden doors can be opened easily as compared to iron doors. 
How to make a door in Minecraft
So now it's clear to you that you can craft two types of doors in Minecraft. Firstly let's learn about how you can build a wooden door in Minecraft.
Wooden door Minecraft recipe
If you want to build a wooden door, then the first thing that you need to gather is wooden planks. You can collect the wooden planks of any type of wood available in the game, such as Spruce, Oak, Dark Oak, Birch, Acacia, and Jungle.
After collecting the wooden planks, you must follow the steps below to build a door in Minecraft.
Step 1: Open the Crafting menu
First of all, you need to open the crafting table to start your crafting journey. Now after opening the crafting table, you will get a 3×3 crafting grid, as shown in the image below.
Step 2: Add the wooden blocks to the crafting table
Now suppose that you have collected Oak wood planks to your inventory, then place the Oak wood blocks on the 3×3 crafting grid similarly as done in the image given below. You need 6 wood planks and need to place them in the first and second columns and keep the 3rd column empty.
Once you complete the above process, you will get 3 doors in the box on the right side.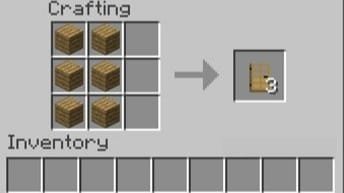 Step 3: Move the door in your inventory
Now you have successfully crafted 3 wooden doors, and you have to move them in your inventory to use them when needed.
Iron door Minecraft recipe
If you want to make an iron door in Minecraft, then you need to collect 6 iron ingots first. Now the thing is how you can get iron ingots, so there are two ways available.
Smelting: Smelt down a block of iron ore to get an iron ingot.
Crafting: Craft a single block of iron to have an iron ingot.
After collecting all the necessary items to build an iron door, you can go for the same process we used to make a wooden door. The difference will be that this time you need to place the iron ingots in place of the wood planks in the crafting grid. 
Now, after completing the complete process step by step, you can get your iron door in your inventory section in Minecraft.
Also Read: How to Make a Saddle in Minecraft
How to Play Minecraft on Mobile without Spending Money
Disclosure: This post contains amazon affiliate links. When you buy through links on our website we may earn an affiliate commission.