Shirou Character is introduced in Free Fire on February 2020. This character has an ability passive ability name 'Damaged Delivered'. We look at his ability and also other in-game details like appearance and price. Many characters are based on real life characters. Is Shirou is character is also based on real-life of celebrity.
Garena Free Fire has a unique feature that allows players to change their characters in-game. There are 41 characters available in Free Fire you can check all character details of Free Fire here, players can choose between these characters according to their skill but you need to purchase these characters by its gaming currency called a diamond.
Every character except Nulla and Premis has specific ability which gives players an extra advantage in game.
Free Fire releases new characters occasionally in-game. A few times ago Free Fire introduced Chrono character and now in another big update OB26, they launch a new character named Shirou. In this article, we will tell you about the abilities of Shirou characters in Free Fire.
Details of Shirou Character in Free Fire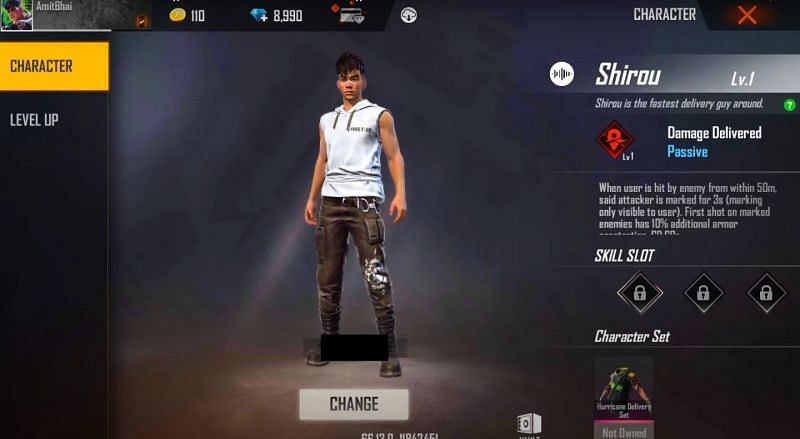 Ability of Shirou in Free Fire
This new character Shirou has a passive skill called Damage Delivered. As the name of skill suggests that
It can give more damage to enemies. On the basic level, the user can give marked attacker for 3 sec and it will only visible to the player it happens only when the user will hit by an enemy within 50m.
10% additionally armor penetration is given on first shot of user to marked enemy. This ability has 60 sec for cooldown.
On a higher level, when an enemy hits a user within 100 m enemy will be marked for 8 sec. And on the first shot of user to marked enemy gives 100% armour penetration and it cooled after 10 sec.
How to get new character Shirou?
You can Shiroiu character by purchasing through diamonds in-game store of Free Fire. You need to spend only 1 diamond to get this character and you will also get his costume bundle which name Hurricane Delivered set.
Shirou Character in Real Life?
Shirou character is not based on real life. This is an fictional character.
Disclosure: This post contains amazon affiliate links. When you buy through links on our website we may earn an affiliate commission.