Here is the X Mania biography in which I will tell you his real name, age, girlfriend name and other details of Free Fire.
X mania is a squadmate of Amit Bhai (Desi Gamer) and also a Youtuber his Youtube Channel X mania has 1.32 million subscribers X mania is popular among Free Fire fans for not only his gameplay but also for his commentary.
Everything you want to know about x mania like his age, name, Free Fire ID and stats will be available in this article.
Read the full biography of X Mania in this article.
X mania Real Name
Real name of X mania is Hemant Vyas and his age is about 18 years. But he become famous by his nickname X mania.
X mania Face Reveal
Hemant Vyas aka X mania revealed his face on a live streaming of Free Fire on Youtube and later he posted his cute photo on Instagram for those who didn't see X mania's Face we upload his photo below.
Many fans were eagerly waiting to see real face of Xmania but after a long time for X mania finally revealed his face.
Youtube Career
X mania aka Hemant Vyas started his Youtube career on 6 July 2019 according to Youtube. Since 2019 he gained more than 1.3 million subscribers with 60 million views on just 83 videos. He recently started his second Youtube channel named Hemant Gaming. Where he just streamed one live video of Minecraft Game but he has 46.1k subscriber on this channel. 
Free Fire Stats, UId, Name
Free Fire Uid of X mania is 97762833 and his name on Free Fire is X mania. But he keeps changing his name on Free Fire Id according to his profile in Free Fire.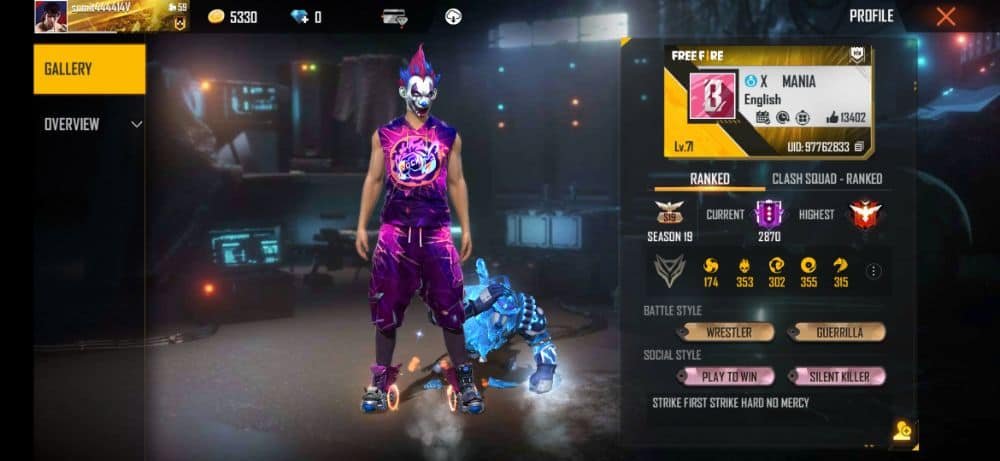 Here are, his stats in Free Fire in solo, duo and squad games
Solo – He played around 2953 games in a solo mode where he won 415 games which makes an amazing win rate of 13.05% and his kills in solo games is 8334with a KD ratio of 3.28
Duo– He played around 2813 games in Duo mode where he won 499 games which makes an amazing win rate of 13.05% and his kills in Duo games is 8302 with a KD ratio of 3.59.
Squad– He played around 9396 games in squad mode where he won 2171 games which makes an amazing win rate 13.05% and his kills in squad games is 28314 with a KD ratio of 3.92
Also read : OPG Cookie Real Name, Photo, Free Fire Id and Stats
Youtube Channel of X mania
https://www.youtube.com/c/XManiaFreeFire/featured
Disclosure: This post contains amazon affiliate links. When you buy through links on our website we may earn an affiliate commission.