Free Fire brings a new live watching event on 17th October 2021. In this event, they put a milestone of 400k live watching of FFIC. If this milestone will be achieved by Free Fire, then you will get some free rewards like Skyler character, Beaston Pet, M4A1 FCS Gun skin and One Finer Pushup Emote.
Free Fire will also give rewards if their live watching crosses 200k and 300k milestones.
In this article, I will tell you the details of FFIC live watching rewards and how can you claim these rewards.
Here are the details of the rewards of the upcoming FFIC live watching event.
200k Live Watching Rewards of Free Fire
You can claim Free Truck skin once the live watching of FFIC crossed the 200k milestone on 17th October.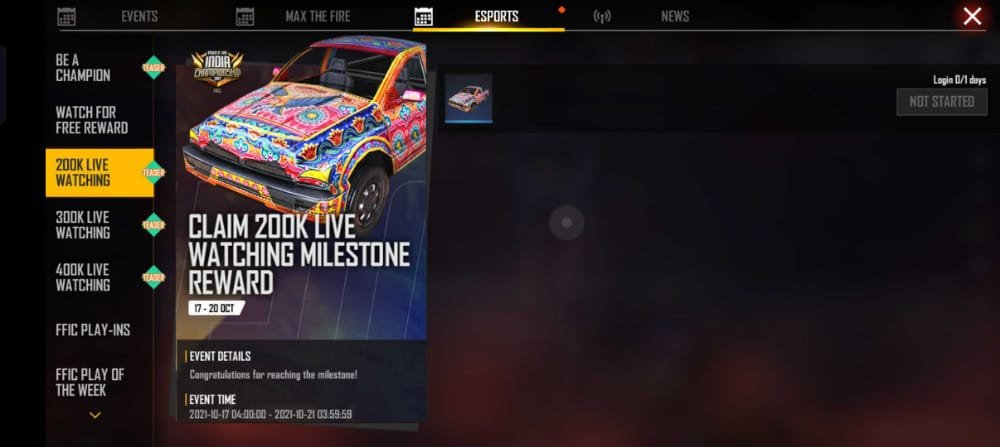 300K Live Watching Rewards of Free Fire
On reaching 300k live watching of FFIC, Free Fire players will get Free Mag 7 The Executioner Gun skin with one room card.
One must claim these rewards because you will get free permanent gun skin of Mag 7. Getting free permanent gun skins are not simple. That's why I wrote an article on how to get free permanent gun skins.
400k Live Watching Rewards of Free Fire
On reaching this milestone, Free Fire will give 4 premium rewards to Free Fire players who will claim this between 17th to 20th October.
However, you can claim only one reward out of 4 rewards.
Here are those 4 rewards that you can claim.
Free Skyler Character
Free Fire is finally giving Skyler character for free to every player. This character is one of the most popular characters in Free Fire. If you are not familiar with this character, then check out our article on Skyler character in real life.
Beaston Pet
Beaston is the most powerful pet in Free Fire, and this pet also comes in the four rewards that Free Fire will give to their players. If you want to know about his ability in Free Fire, then click here.
M4A1 Gun Skin
The third reward of FFIC live watching is M4A1 gun skin. This gun has good accuracy and high damage power.
One Hand Push Up Emote
One-hand push up emote is available to redeem on 400k live watching events of Free Fire.
Conclusion
This live watching event of FFIC does not occur regularly, so you should not miss this opportunity to claim the free rewards of Free Fire.
The rewards of 200k and 300k live milestones were fixed, and there will be no other options to choose. But players have four options to choose from the rewards of the 400k milestone. From the above rewards of FFIC, the free Skyler character is the best reward to claim.
Disclosure: This post contains amazon affiliate links. When you buy through links on our website we may earn an affiliate commission.