Garena Free Fire brings two new characters OB30 updates. The name of these two mystery characters is Otho and Leo. In this article, I will tell you about Otho character hacker ability in Free Fire.
Otho character is a comic character in Free Fire. And this character is not based on the real-life of any celebrity like DJ Alok, Chrono, Skyler Dimitri and Thiva. If you want to know which characters are based on real-life celebrities then click here.
Let's come back to the Otho character, the ability name of the Otho character is Memory Mist. And the ability of Otho character is passive.
In-Game Description of Otho Character
According to Free Fire's in-game description, Otho is an engineer at polytech university.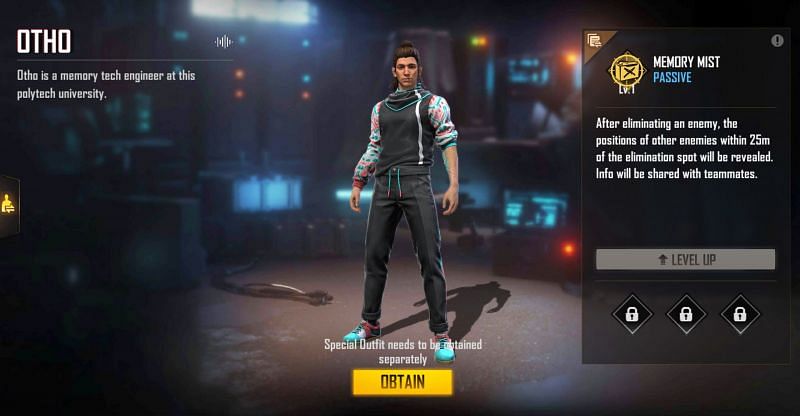 Otho Character Ability in Free Fire
Otho character has a passive ability, and the name of this ability is memory mis
"When a player plays with Otho character, and if he killed an enemy, then the location of other enemies within a specified area will also be revealed by Otho's ability".
As the level of Otho's ability increase, then the range of area will also increase.
On a basic level the range of area is about 25% and on a higher level range is increased to 50%.
Here is the all level and range of the area
Level 1
Range 25%
Level 2
Range 30%
Level 3
Range 35%
Level 4
Range 40%
Level 5
Range 45%
Level 6 Range 50%
When will Otho character be available to purchase?
Otho character is now available in the character store of Free Fire, but players can not obtain this character. You have to wait a couple of days to purchase this character.
What is the Price of Otho character in Free Fire?
The price of the Otho character is likely to be around 400 diamonds to 500 diamonds. This character has a passive ability, and it may be available in the top-up event of Free Fire.
So players can wait for the upcoming top event to get free Otho character.
Disclosure: This post contains amazon affiliate links. When you buy through links on our website we may earn an affiliate commission.