I today's article, I will tell you the real life of Ajju bhai. I will give you the real uid of Ajju Bhai and his Free Fire profile information in this article.
Let me first introduce you to Ajju Bhai, he is a professional Free Fire player and founder of one of the top three most subscribed individual Youtube channels in India currently.
His YouTube channel Total Gaming completed 21 million subscribers on Youtube recently.
Now he is just behind Ashish Chanchlani and Carryminati in the list of most subscribed individual YouTubers in India.
Ajju Bhai in real life, name, age and hometown
Ajju Bhai real name is Ajay ( he doesn't reveal his full name yet) and his real age is 24 years currently.
He lives in Ahmedabad, the city of Gujrat with his family.
Face Reveal
In an interview with sportskeeda Ajju Bhai said that he will reveal his in the upcoming 4 5 years.
Education
He completed his early education in the school of Ahmedabad and later he graduated with an Engineering degree from an Engineering Institute of Ahmedabad (The name of an institution is not known).
Ajju Bhai Girlfriend Name
Ajju Bhai girlfriend name is one of the most searched queries in google about Ajju Bhai. Many websites failed in providing the name of his girlfriend and the reason for this is that Ajju Bhai never reveals about his girlfriend.
Profession
He is a professional esports player and Youtuber, who loves to play Free Fire, GTA5 and PUBG games. He is also known as Free Fire Awm king Ajju Bhai. But, according to some websites, Ajju Bhai is also a software developer. He is currently working in an IT company in Ahmedabad, Gujrat. However, he managed his life well between doing his job and streaming Free Fire.
Who inspired Ajju Bhai for playing Free Fire?
AjjuBhai gives an exclusive interview to the sportskeeda website you can check the full interview of Ajjubhai here on sportskeeda . In this interview, he said that he was inspired by a little boy who is playing Free Fire outside his office. That little boy told Ajju Bhai about the Free Fire game.
Since then Ajjubhai started playing this game and later he also watches some videos of the Free Fire game on YouTube.
He gets inspiration to start his YouTube channel from those videos.
In the initial days of their Youtube career, He mostly played the Free Fire game on PC but later he shifted towards mobile after seeing much competition in mobile.
YouTube Journey
Ajjubhai's YouTube journey started on 2 December 2018. He uploaded the first video of Free Fire on 2 December 2018.
He used to upload tips, tricks and how to get videos on his Youtube on the initial days of his Youtube journey.
But later, he started uploading videos of his gameplay of Free Fire.
His channel got a huge response from the audience of Free Fire and within 2 years of the Youtube journey of Total Gaming, gained more than 23 million subscribers on Youtube and becomes the most subscribed Indian gaming Youtuber in India.
Ajju Bhai Free Fire Profile and Real Uid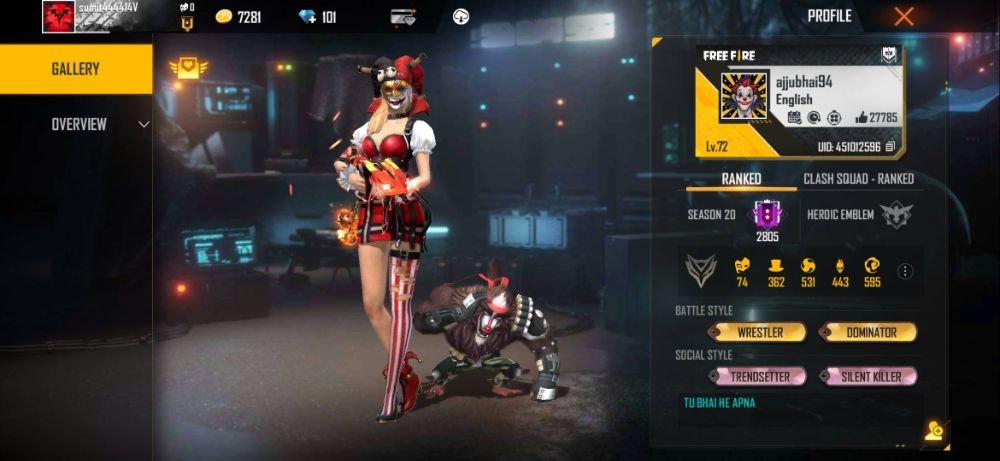 The nickname Ajju Bhai in Free Fire is Ajjubhai94. Ajju bhai real UID is 451012596 in Free Fire.
He receives more than 277785 likes in his id of Free Fire.
The current rank of Ajju Bhai in season 20 is the heroic emblem. The current level of Ajjubhai94 is 72 in Free Fire.
Also Read : TG Dada Real Name, K/D Ratio, Free Fire Id and Stats
Lifetime Stats in Free Fire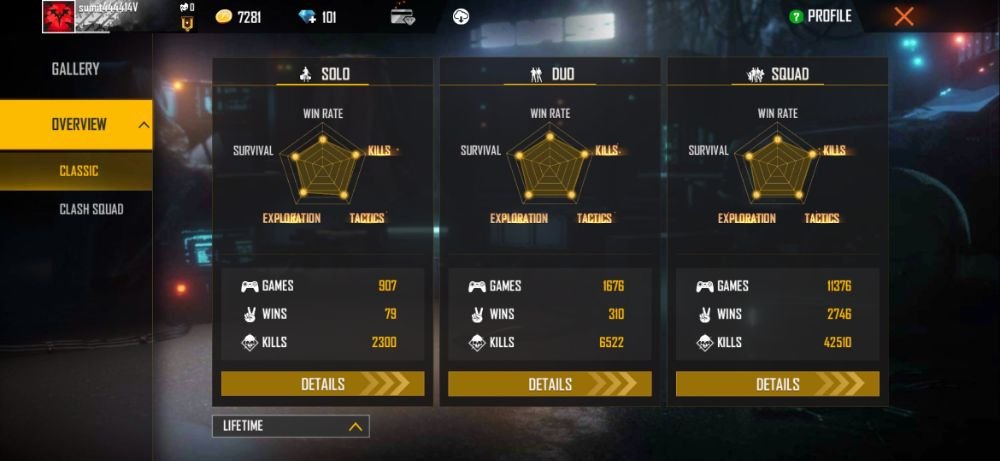 Hope you guys like this biography of Ajju bhai and Ajju bhai in real life is a very good person. Share this blog with your friends on Facebook and WhatsApp. So they can also read this biography of AWM king Ajjubhai.
Ajju Bhai achievements in Free Fire
1 Total Gaming is most subscribed Youtube channel of gaming in India ( 2021)
2 Ajju Bhai team Total Gaming Esports severeal Free Fire tournaments.
FFIC Champion
FFPL Champion
FFTI CS Champion
FFCS Finalist
Booyah Summer League Champion
Also Read : Amit Bhai biography his real name, age hometown and Free Fire UID.
Disclosure: This post contains amazon affiliate links. When you buy through links on our website we may earn an affiliate commission.