Battle Points or BP is the in-game obtainable currency of Mobile Legends. Next to Diamonds, Fragments, and Tickets, Battle Points can grab many things. Some essential commodities in the game, like new Heroes, Emblem fragments on the Emblem Matrix, and more, can be bought with BP. That makes the BP a most necessary thing in Mobile Legends.
Since, with lots of BP, you can purchase anything in the game, and it is important to learn How to get more Battle Points in Mobile Legends? However, I've mentioned all possible sources of BP and various ways to grab them. So just go through the guide and learn everything about BP in Mobile Legends.
Tips for Earning Battle Points in Mobile Legend
1. Free Chests
As the name suggests, it is one of the easiest ways to get free Battle Points. Free Chests are available every four hours and can be obtained a maximum of two times.
Along with Battle Points, Free Chests also contain 40-50 Battle Points, random emblem fragments, Premium Skin Fragments, Magic Dusts, and more. That's why it is important to collect every Free Chest.
2.Daily Quests
Daily Quest is another easy way to get free Battle Points once the required activity points are achieved. With Daily Quest, you can earn up to 230 BP daily.
Score 800 activity points within a week and get an extra 500 BP along with different rewards.
3. 7-Day Login
Get Battle Points by just logging in to the game daily. Each day you'll get different rewards continuously; on the 5th day, you will get 300 BP.
4.Lucky Spin
If you are lucky enough, then you can try Lucky Spin. Visit through the Shop Tab and click on Lucky Spin. Tap on the start button to spin the roulette, and the roulette will randomly give you one of the listed prizes.
You can get 300 Battle Points and other random rewards like Hero/Skin, Skin Trial Pack, Lucky Gem Fragment, and more in the Lucky Spin. A regular spin will cost you 20 Tickets, and every few days, you get a free draw.
5. Achievements
Mobile Legends offers you a lot of Achievements in the game. In order to earn Battle Points, you must unlock numerous Achievements and complete specific requirements. Every achievement has some rewards, which could include Battle Points, Fragments, Magic Dusts, or Emblems.
Some achievements are easy, so make sure to complete every achievement available in the game.
6.Unlock the Medal Chest
Like Free Chest, Medal Chest is also an easy source to earn Battle Points. Medal Chest can be unlocked by participating in different matches. Participate and win games and open the Medal Chest fast.
Along with Battle Points, Medal Chest also contains Emblems, Fragments, and Magic Dusts. After a successful redemption, the Medal Chest will become available after 12 hours.
7. Get a good Credit Score
Yes, your Credit Score does matter to earn free Battle Points. You can access your Credit Score by tapping on your avatar, and there you'll find the Credit Score menu on the leftmost upper side of the main screen.
Your playing behavior affects your Credit Score. If you have played well (without any violations like no AFKs or feeding behavior), actively for a week, and managed the Credit Score of 110 or above, you can get an extra 10% BP after completing a match. You can earn 7500 to 8500 increased BP per week.
8. Play more Brawl Matches
If you are the one who likes short and straight-up matches, Brawl matches are for you. The Brawl Matches not only boost your Credit Score, which is down due to AFK behavior and violation reports, but also allow you to collect instant Battle Points.
You can also practice your hero against AI bots and earn BP.
9. Take out those Trial Card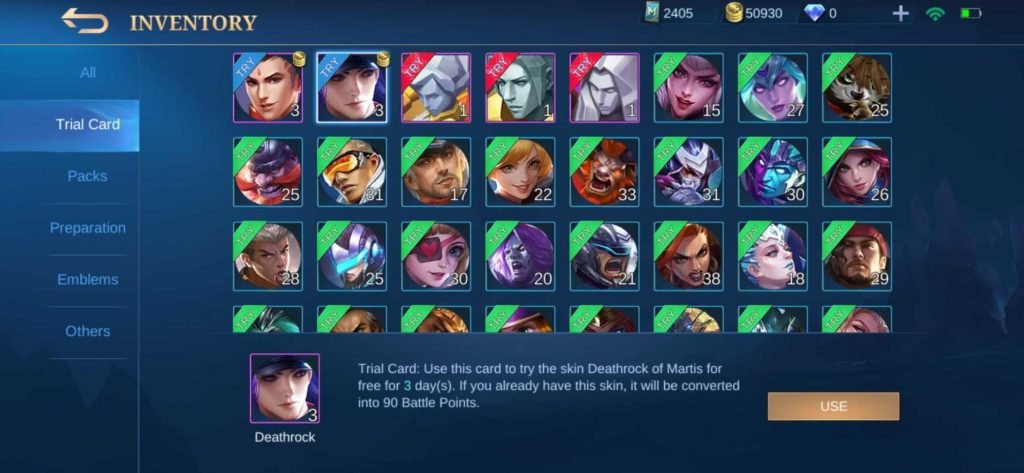 It's hard to deny the joy of trying out heroes and skins with Trial Cards. However, you can turn these Trial Cards into Battle Points once you own the hero or skin.
Yes! that's right! You can convert the Trial Cards for a hero or skin into 30 Battle Points each. Look for the icon with gold coins at the top right corner, and this is a great way to earn some extra Battle Points and make the most of your unused Trial Cards. So, don't let those Trial Cards go to waste!
10.Sell the stuff
Did you know you can sell your stuff and earn extra Battle Points? Yes! That's true. Over time, when events end, your inventory will be filled with unused things. The stuff may include items used to trade for other rewards and gifts during past events.
You can sell them to earn an average of 30 Battle Points each.
11. Check your Mail
Do you check your mail inbox daily? If you still need to, then you might be missing some rewards. Mail is not just for updates, announcements, or promotions. Sometimes, the game developers send Battle Points as rewards and gifts to the players through the mail.
So check your mail daily; who knows what surprise awaits you?
12 Use BP Cards
Every player wants to grab more and more BPs as fast as possible. You can do this by activating your BP card. BP card can double your Battle Points. These Cards are available from 1, 3, and 7-Day time durations.
Also, the card will increase the maximum BP collected after each battle by 1,500 for the whole week.
13. Squad Rewards
Have you ever created a Squad with your friends? A Squad can have a maximum of 9 members, and it does not just help to level up your rank, but you can get additional rewards (like BP) based on your Squads activity and performance.
So, make a Squad with your friends and earn extra rewards.
14.Become a Starlight Member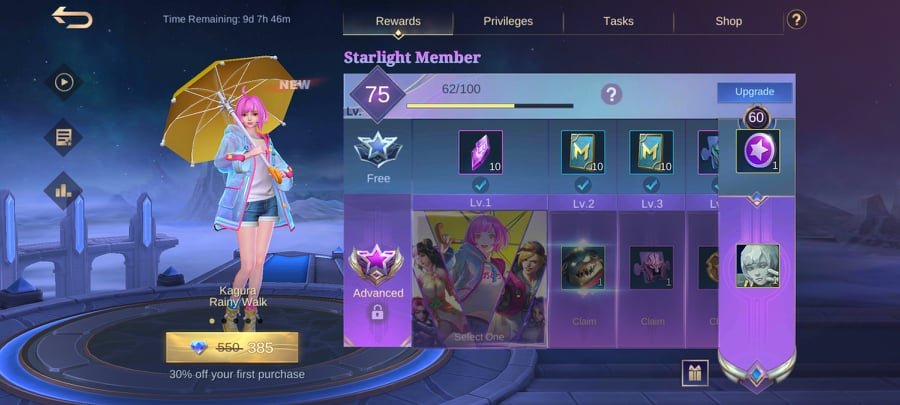 Among the numerous benefits of becoming a Starlight Member, one of the most exciting perks is boosting your Battle Points.
With every battle you participate in, you'll receive an additional 5% Battle Points reward on top of the standard amount.
Play the Game as Much as You Can
There is no secret in the last tip, simply play and enjoy the game. The more you play the game, the more you will receive the Battle Points. If you are a pro player with a good credit score of over 90, you can earn more than 7,500 BP per week.
The Bottom Line
In conclusion, by following the above-listed tips for earning Battle Points in Mobile Legends, players can improve their gameplay, increase their ranking, and unlock exciting rewards, including Battle Points. Whether it's mastering hero skills, using strategy and teamwork, or maximizing daily bonuses, there are plenty of ways to boost your Battle Points and climb the leaderboard. So, keep practicing, stay focused, and enjoy the thrilling world of Mobile Legends!
Related Post: Mobile Legends: How To Get Free Diamonds in the Game
Disclosure: This post contains amazon affiliate links. When you buy through links on our website we may earn an affiliate commission.