Helmets are the protecting gears for the players, and it protects the player's head from mob attacks. In Minecraft, there are seven types of Helmet styles included: chainmail helmets, iron helmets, gold helmets, Leather helmets, diamond helmets, netherite helmets, and turtle shells. This guide will share the recipe for "How to make a Diamond Helmet in Minecraft?"
So why is Diamond Helmet so much popular among all the 7 Helmets? The answer is the durability of the Diamond Helmet. This Helmet is the second most durable and safest Helmet in Minecraft.
Let's take a look at the durability of all 7 Minecraft Helmets:
| Name | Durability |
| --- | --- |
| Leather Cap | 55 |
| Dyed Leather Cap | 55 |
| Golden Helmet | 77 |
| Iron Helmet | 165 |
| Chain Helmet | 165 |
| Turtle Shell | 275 |
| Diamond Helmet | 363 |
| Netherite Helmet | 407 |
Durability of Helmets in Minecraft
Which platforms supports the Diamond Helmet?
The platforms that support the Diamond helmet are listed below:
| | |
| --- | --- |
| Pocket Edition (PE) | Yes (0.6.0) |
| Java Edition (PC/Mac) | Yes |
| Xbox 360 | Yes |
| Xbox One | Yes |
| Wii U | Yes |
| PS4 | Yes |
| PS3 | Yes |
| Windows 10 Edition | Yes |
| Nintendo Switch | Yes |
| Education Edition | Yes |
Diamond helmet supporting platforms
Required Materials to make a Diamond Helmet
You don't need much to make a Diamond Helmet. You should have just 5 Diamonds to make a Diamond Helmet. Further, you can make an Enchanted Diamond Helmet by adding Enchantment Table and Lapis Lazuli to your checklist.
Where to get Diamonds in Minecraft?
Finding Diamonds in Minecraft is quite tricky. Generally, you can get Diamonds at 10 and 11 of y-coordinates under 5-12 layers of land. Remember that you can only mine Diamonds with an iron pickaxe or higher.
Steps to make Diamond Helmet in Minecraft
Step 1: Open the crafting table.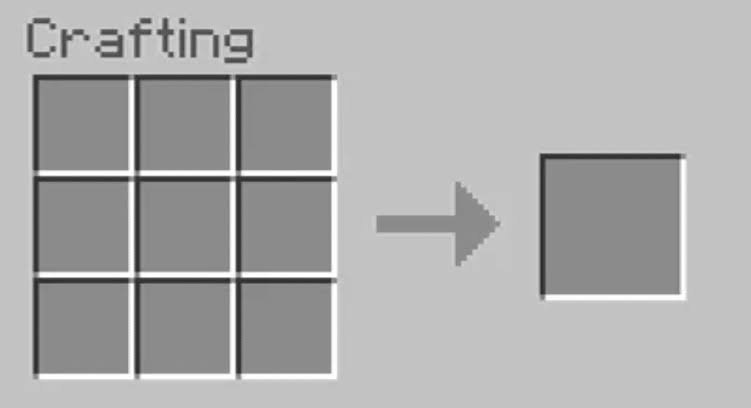 Step 2: Place all 5 Diamonds in the crafting table in such a way that are shown in the image:
Fill the first row with 3 Diamonds and place 2 Diamonds at the right and left box of the middle row. The middle box should be empty.
After placing all the Diamonds correctly, you will see the Diamond Helmet in the result box, which is placed on the right.
Step 3: After crafting a Diamond helmet, you will need to take it to your inventory.
And here you go, now your Diamond Helmet is ready. Please let us know your thoughts on the Diamond Helmet recipe and share your questions in the comments.
Related Post:
How To Make A Bed In Minecraft
How to Change Game Mode in Minecraft?
Disclosure: This post contains amazon affiliate links. When you buy through links on our website we may earn an affiliate commission.