Events are players' favourites as they bring many lucrative rewards with them. Recently, a new event has been introduced in the game: the Lock On Event in Free Fire Max. This event offers you a premium Sonorous Graffiti Bundle along with other rewards in exchange for diamonds.
In this event, the most exciting reward is none other than the rare and premium Sonorous Graffiti Unisex Bundle. Along with this bundle, you can also win some other items, such as loot crates, cube fragments, etc. However, to obtain these prizes you need to spend diamonds. So let's find out the complete details of the Lock On Event.
Here are the entire details of the new Sonorous Graffiti Bundle and Lock On Event in Free Fire Max
The Lock On event is already live from 14th June 2023, and it will be live in the game till 21st June 2023, 03:59 IST. So, you will get sufficient time to win lucrative rewards from this event. Moreover, the centre of the attraction of this event is the gorgeous and colourful Sonorous Graffiti Unisex Bundle.
Further, to win this exclusive outfit, you need to lock on the grand bundle in no more than 30 shots. Also, to shoot 1 time, you need to spend 25 diamonds, and to shoot 5 times will cost you 125 diamonds. Additionally, if you win any already owned item, then it will be turned into FF tokens.
Now, it's time to talk over the prizes you will obtain in the Lock On Event.
Prize list from the Lock On Event in Free Fire Max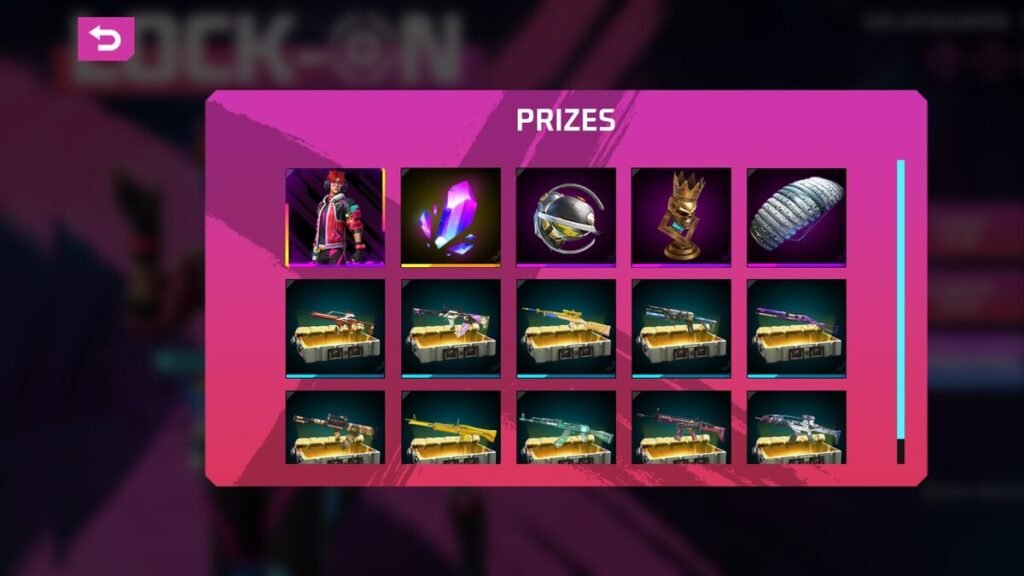 This event will allow you to win around 15 different exclusive rewards, including the premium Sonorous Graffiti Unisex Bundle. The complete list of the prizes you can obtain is as follows.
Sonorous Graffiti bundle
Yin and yang
Cube fragment
Raindrops
Night scouter loot box
Flaring Bionica (G36 + M1873) Weapon Loot Crate
Royale Warrior (AC80 + SCAR) Weapon Loot Crate
Sterling Futurnetic (Groza + Treatment Sniper) Weapon Loot Crate
Night Bite (Charge Buster + Kar98K) Weapon Loot Crate
Warith Patrol (Bizon + Parafal) Weapon Loot Crate
Deadly Bat Weapon Loot Crate
Digital Invasion Weapon Loot Crate
Gold Coated (M60) Weapon Loot Crate
Pharoah Weapon Loot Crate
Pink Devil Weapon Loot Crate
Steps to win exclusive prizes from the Lock On Event
Now to obtain the premium items from the Lock On Event in Free Fire Max, you have to go after some simple steps as pointed out below.
First Step: On your device, open Free Fire Max and log in to the game and move to the events section in the game and go to the Lock On Event.
Second Step: Further, make use of the diamonds and the Lock On option, to access shots and get rewards.
Third Step: Lastly, after you get your reward, you can find it in your vault section of the game, and it may take around 10 minutes to appear in the vault section.
Note: You will surely get the grand prize in under 30 shots using the Lock On option. Also, it would be best if you did not miss this chance to win the new Sonorous Graffiti Unisex Bundle.
Disclosure: This post contains amazon affiliate links. When you buy through links on our website we may earn an affiliate commission.