Many players of Free Fire across the world want to join the Free Fire partner program in India. But they don't have any idea about how to join the partnership program. So we bring this article in which, I will cover all the answers related to this like, what's is the eligibility criteria? what are the benefits of joining this? and how to join this program.
What is Free Fire Partner Program?
This program is specially created for the content creators/YouTubers of Free Fire. Garena will give some early access to in-game characters, weapons, maps and pets to the member of this partner program through advanced servers.
Those content creators who spend a lot of time playing and promoting Free Fire games have a chance to take some extra benefit from Free Fire.
Who can join this Program? and what is the eligibility criteria for YouTubers to join?
Free Fire already uploaded all the details of the eligibility criteria of this program on their site. According to Free Fire, YouTubers who has more than 100000 subscribers on their channel are eligible to join this program.
All other points of eligibility criteria of the join the Partner Program are mention below.
• One must have a YouTube channel.
• You need 100000 subscribers on your Youtube channel.
• 80 % of all your content is must be related to the Free Fire game in the last 30 days.
• More than 3 lakh views are required in your channel in the last 30 days.
•You must have consistency in social media activity and content quality.
• You must be professional to work hard.
• You must have a passion for gaming.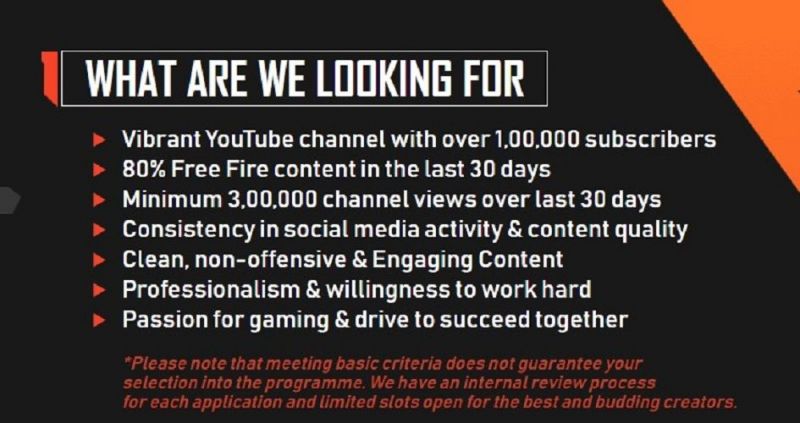 How to Join Free Fire partner Program ?
You can apply for this partner program through the official websites of Garena. Here is the link of that website click here and apply for this program. When you apply for this program then your application is sent to the internal team of Garena. Gareana team members then manually reviewed your application and if they think you deserve to be a part of this program then they will inform you through your contact details.
Benefits of Joining this Program?
There are several benefits of joining this Partner Program, players can get many in-game rewards, diamonds, weapons and custom rooms. Free Fire give them access to advanced content.
Players will also get an official Verified Badge in their Free Fire account.
You can communicate with Free Fire team members also. They will invite you to several events and tournaments of Free Fire.
YouTubers will also get financial compensation from Free Fire if their youtube channel has 5lakh subscribers.
FAQ
Can I Join Free Fire Max Partner Program?
There is no information available on the internet regarding Free Fire Max Partner Program.
Can I join Partner Program Without Youtube Channel?
No, You cannot join Free Fire Partner Program without Youtube Channel.
Is there any fees for sending application?
No, the applicaion process is totally free of cost.
Can I join these with 0 subscribers?
No, your channel need 100k subscribers to join this program
Who are the current members of these program in India?
Some famous Youtubers like Desi Gamers, TSG Ritik, Gyan Gaming, Gyan Subrata and many more in this list are members of these program.
Disclosure: This post contains amazon affiliate links. When you buy through links on our website we may earn an affiliate commission.