Today we are talking about a famous Youtuber and professional Free Fire player named Amit Sharma, known as Amit Bhai. He is the founder of Desi Gamer (Youtube Channel), where he uploads videos of his gameplay, and he also streams live videos of his gameplay.
In this article, you can find Amit Bhai uid, his real name, age, guild name, and other details.
We will bring this article, especially for Amit Bhai fans, because they wanted to know everything about their favorite Free Fire players..
Amit Bhai Photo
Real name and his family
As you know, Amit Bhai Free Fire's name is Amit Bhai, but his real name is Amit Sharma. He was born on 26 Jan 1997 ( Amit Bhai age is now 24), and his hometown is in Siliguri( West Bengal), where he lives with his family, which consists of his mother, father, and big brother.
Amit Bhai brother name is Anup Sharma (Goutam) he is also a Free Fire gamer.
Before 10th class, Amit Bhai's life was between school and home. After 12th class, his life is not as simple as before.
Youtube Career
He also applied for government jobs after his graduation, but his real career began when he started his Youtube channel in 2018, where he started playing Free Fire, and then he got much success in his Youtube channel. Now he owns two channels named Desi Gamers (12.6 million) and Desi Army ( 3.4 million) subscribers current.
Income
Amit Bhai has more than 7.2 million subscribers, so a significant portion of his income comes from his Youtube channels. He got average monthly views on both Youtube channels are more than 35- 4o million views, and he also gets managed to have a 35k audience in his live stream.
He earns money from Youtube through Adsense, super chats, donations, memberships, and sponsor ads.
And through social media, he also managed to earn lakhs of rupees by advertising brands and other sponsor posts because he has 970k followers on Instagram and 300k followers on FacebookWe can expect his monthly income is around Rs. 6 lakhs, and his annual income is approx. 1.2 crores.
We can expect his monthly income is around Rs. 6 lakhs and his annual income is approx. 1.2 crores.
Amit Bhai UID number and Guild Name
Amit Bhai uid is 206746194, and his nickname (IGN) in Free Fire is Amit Bhai. The guild name of Amit Bhai is 'SURVIVORS.'
FF Profile, Stats and KD Ratio in Free Fire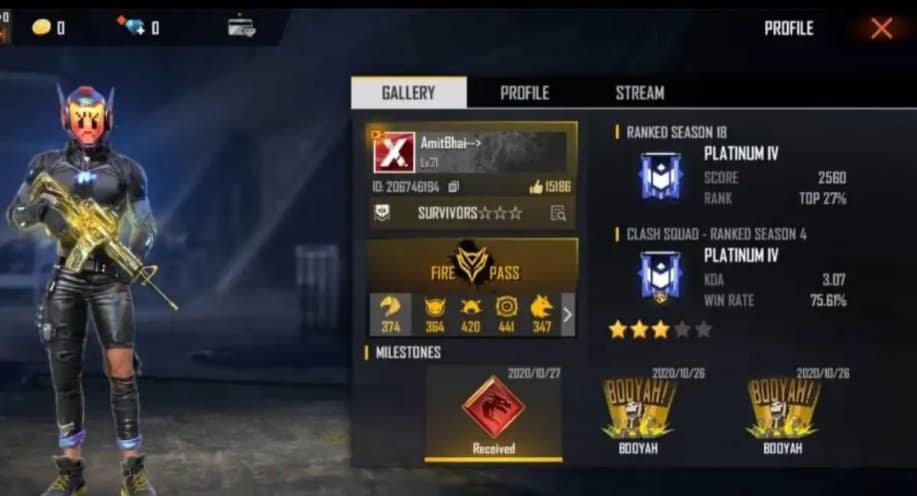 He played more than 2865 matches in duo matches and won 596 games and total kills over 7084. KD ratio if 2.01, and the winning percentage is 18.9%.
Some Facts about Desigamers
Amit Bhai's Youtube channel is the second most subscribed channel among Free Fire content creators.
He was a part of Indian teams going to Indonesia and Germany for tournaments in 2019, where he represents India in Free Fire.
Achievements in Free Fire and Youtube
Desi Gamer Youtube channel is the third most subscribed Youtube Channel in Free Fire in India.
Amit Bhai receives diamond play button becomes the second after Ajju Bhai in the Free Fire community.
Instagram ID
https://www.instagram.com/desigamers1/
Disclosure: This post contains amazon affiliate links. When you buy through links on our website we may earn an affiliate commission.