Players are always excited about new events that allow them to get several lucrative rewards. One such event is live now, and it is none other than the Emote Party Event in Free Fire Max. Also, the name of the event itself indicates that you can get various emotes under this event.
In case you don't know, the emotes you will get in this event are rare and premium, and that's why you have to spend diamonds to get those premium items. So let's look at all the details of Emote Party Event.
Complete Details of the Emote Party Event in Free Fire Max
The emote party event is already live from 2nd June 2023, and you will get enough time to get exclusive rewards as the event will be live till 15th June 2023. So if you haven't participated in this event yet, then hurry up and get your rewards.
Now let's discuss the prizes you will get at this event. So you will find a fixed prize pool in this event. Moreover, the prize pool is split into two categories: Grand Prizes and Bonus Prizes.
Further, let's understand how much a spin will cost you in the Emote Party Event. So, you will have to spend 19 diamonds for a normal spin and which gives you a reward. Alternatively, you need to spend 199 diamonds for a super spin, as it guarantees an emote as a reward.
Additionally, after making 5 super spins, you will get a guaranteed super Sonorous Step Emote. Moreover, it will be icing on the cake for you as you will get a 50% discount on your first spin.
List of rewards from the Emote Party Event in Free Fire Max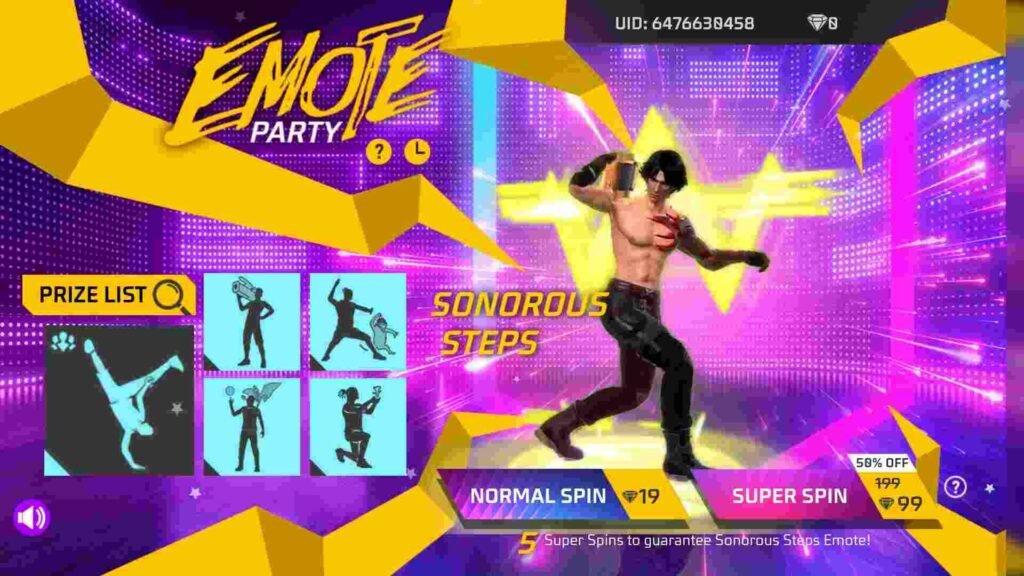 Here is the list of all the rewards you will obtain from both the prize pool categories after spending diamonds to make spins.
Grand Prizes
Sonorous Step
Dribble King
Graffiti Cameraman
Flowers of Love
Kungfu Tigers
Bonus Prizes
Arm Wave
Shuffling
Baby Shark
Threaten
Dangerous Game
Moon Flip
Agile Boxer
Dance Party
Wiggle Walk
Shake It Up
Death Glare
Bring it On!
Fancy Hands
Soul Shaking
The Swan
Shimmy
Challenge On
Bhangra
And Much More
Steps to obtain exclusive rewards from the Emote Party Event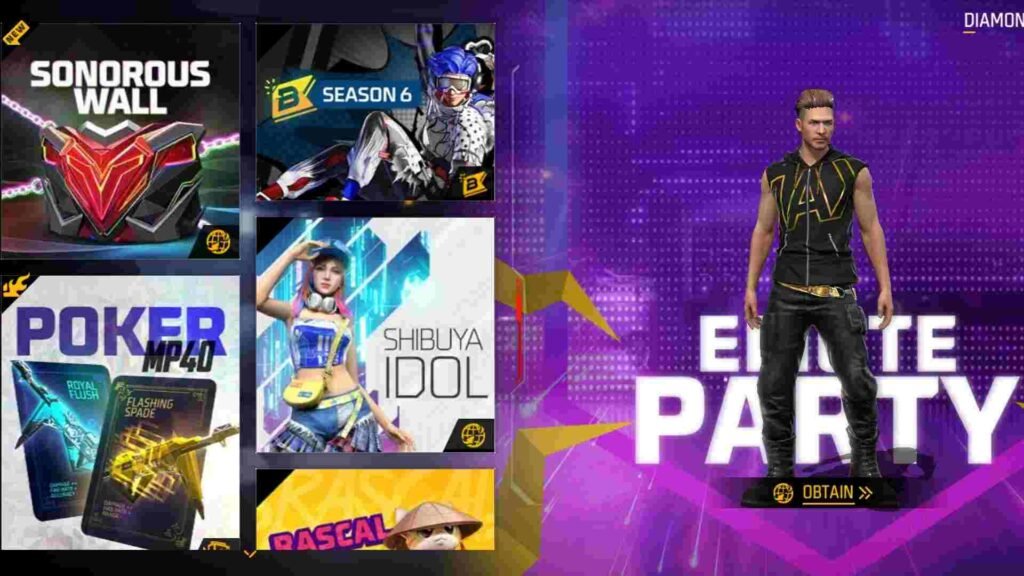 If you're keen to get the super exciting deals of the Emote Party Event in Free Fire Max, then you need to follow some easy steps as mentioned below.
First Step: Open and login into Free Fire Max on your gadget.
Second Step: Now, tap on the event tab on your screen on the top left side.
Third Step: Further, tap on the Emote Party tab among other events options.
Fourth Step: Now, you need to choose and make a spin between the normal and super spin to obtain rewards.
Fifth Step: Once you get a reward, you will find it in the vault section of your account.
Note: Moreover, in the Emote Party Event in Free Fire Max, if you get a unique reward you already possess, that reward will be converted into FF tokens.
Disclosure: This post contains amazon affiliate links. When you buy through links on our website we may earn an affiliate commission.