In this article, I am talking about Nalla Yash gamer. He is a popular Free Fire content creator on Youtube, his channel Nalla Yash uploads videos about Free Fire game only. We will look at Nalla Yash Uid and his current stats in Free Fire.
I will also tell you some real-life details of Nalla Yash, like his full name and their friendship with Aditech.
Nalla Yash Real Name
The real name of Nalla Yash is Yashraj Singh Rajput. Yashraj aka Nalla Yash age is 21( predicted)
Youtube Journey of Yash
Yashraj started his youtube channel Nalla Yash in 2020. His channel is growth in the initial phase is very slow, but after some time, his channel finally gains momentum and crosses the milestone of 1 lakh on June 2021.
Currently, more than 600k people subscribed Nalla Yash channel on Youtube.
His channel received an average of 1 lakh views on videos.
Nalla Yash UID, Nickname, Level and Rank in Free Fire
Nalla Yash UID is 480145169, and his nickname in Free Fire is Nalla YASH.
He is currently on 54 levels of Free Fire and reached Heroic Emblem in season 23 of Battle Royale.
Nalla Gang Guild UID is 1002904019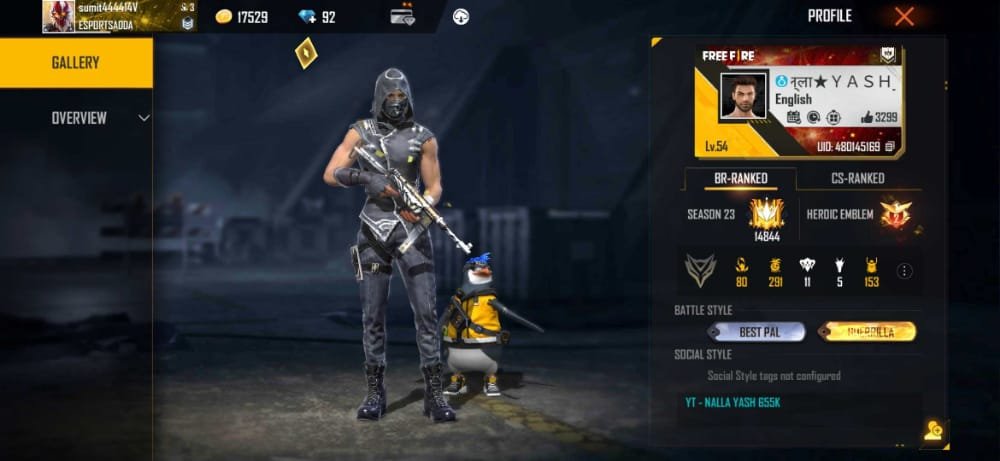 Also Read : 5 Simple Ways To Get Free Emotes in Free Fire ?
Lifetime Stats in Battle Royale
Solo Mode- Yash Played 611 games in solo mode in which he can win 15 games with 875 kills.
Duo Mode- In duo mode, Yash played only 60 games and he won 6 games with 127 kills.
Squad Mode – In this mode, he played a total of 686 games in which he won 381 games with 2977 kills.
Lifetime Stats in Clash Squad
Nalla Yash played only 14 games in the clash squad in which he won 7 games with 48 kills.
Nalla Adi and Yash are very good friends and they play Free Fire together. If you are also looking for Nalla Adi uid then here is 779084851
Disclosure: This post contains amazon affiliate links. When you buy through links on our website we may earn an affiliate commission.