Garena Free Fire is one of the most popular Battle Royale games. Weapons play a very crucial role in the battle royale games. In this article, we will show you the 5 best guns in free fire 2022.
Garena free fire offers a wide range of weapons involving guns, crossbows, pans, grenades, swords, axes and many other small weapons. But the most favourable weapons are guns because of their high damage, range and accuracy as compared to the other weapons.
Garena has a huge collection of guns with a total of around 45 guns. So it becomes difficult to choose which gun is best. So in this article, we will tell you briefly about the 5 best guns in free fire 2022.
1. AWM
Awm is one of the best weapons in the free fire. Also, it is one of the deadliest weapons. It is a high damage sniper rifle with a long reload time.
This gun has a long-range and it is good for stationary targets. Its range is 91, the damage is 90 and the accuracy is 90. Also, it has a reload speed of 34.
2. M1887
M1887 is considered as the deadliest gun among all the weapons of Garena free fire. It is a shotgun type weapon. The gun has very high damage but at a short-range.
This weapon has a good rate of fire along with a high reloading speed. It has a reload speed of 55. Its range is 21, the damage is 100 and the accuracy is 10.
3. AK
Ak is one of the best assault rifles in the Garena free fire. It is supposed to be dangerous because of its high damage along with a high range. But it requires skill to control.
Ak has very high recoil and has tremendous fire rate and movement speed. The accuracy of Ak is 41 with 61 damage. Also, it has a long-range of 72. Ak also has legendary gun skin named Ak -Flaming Red which has long range and high damage rate.
The best thing about Ak gun is that is suits on many gun comabinations beacuse this is an rifle gun.
4. WOODPECKER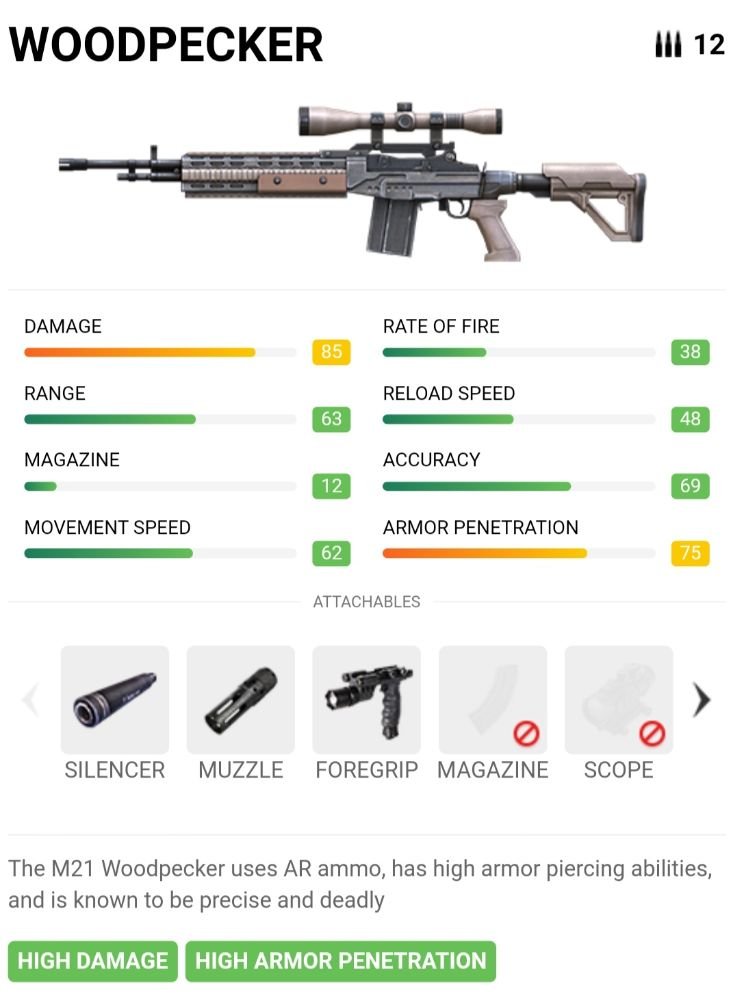 Woodpecker is a marksman rifle type weapon. It is known to be precise and deadly because it has high armour-piercing abilities. This gun has also high damage with a decent range.
It has good accuracy and reload speed. The range of this rifle is 63 with 69 accuracy and the damage is 85. Also, the woodpecker has a 38 rate of fire.
5. SVD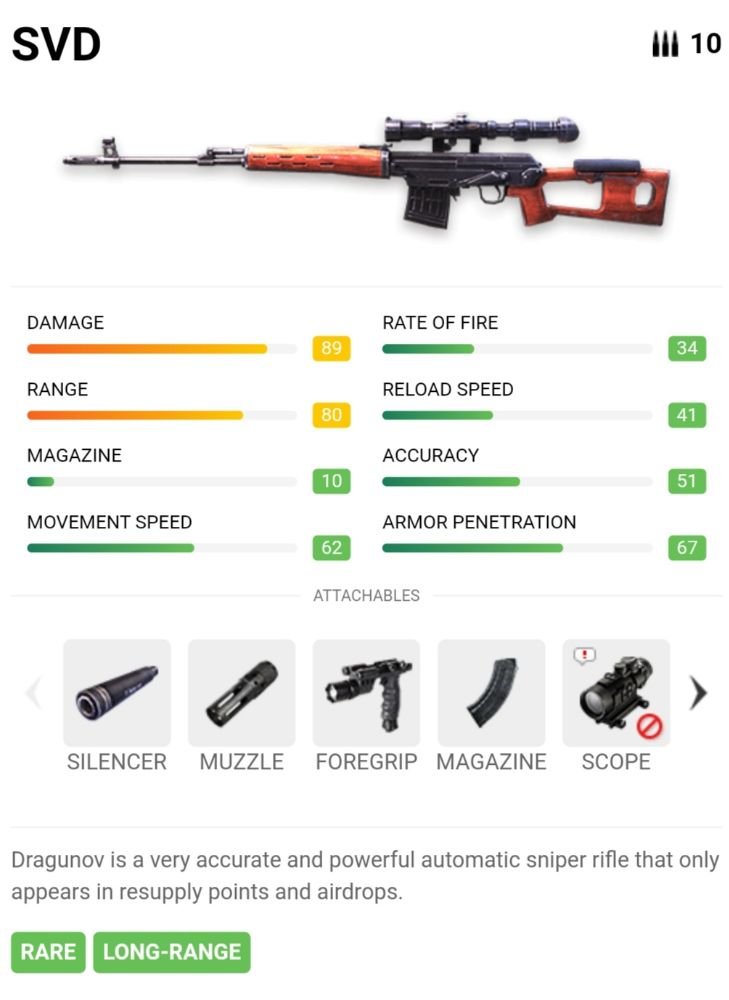 SVD is also a marksman rifle type weapon like woodpecker. But it has more damage and more range than the woodpecker. It is a rare and long-range rifle. This rifle only appears in resupply points and airdrops.
The rifle has a good reload speed and fire rate. Also, the movement speed is good. It has a high damage of 89 and range is 80 and the accuracy is 51.
Disclosure: This post contains amazon affiliate links. When you buy through links on our website we may earn an affiliate commission.