After BGMI was banned in India, several battle royale games made their space in India and as of now, BGMI came back to India. Presently its popularity increased day by day and that's why BGMI ranks on top in Battle Royale games. In this article, we're going to serve you the latest "5 Ways to Get Free BGMI Gun Skins in 2022"
To attract the players Krafton (developer of BGMI) introduced new Gun skins, Royale Passes, Outfits, Events, Modes, and several other cosmetics and in-game items.
Gun skins are the most brought items from the in-game store in BGMI and if you're also a Gun Skin lover and looking for Free Gun Skins then this article helps you in acquiring the "5 Ways to Get Free BGMI Gun Skins".
Which are the 5 Ways to Get Free BGMI Gun Skins?
Here in this article, we are going to serve you the latest 5 Ways to Get Free BGMI Gun Skins, and the ways are listed below :
Events
Milestone Rewards
Redeem Codes
Survey Apps
Purchase with Silver Fragments & AG
Let's dive into the deep…
1. Events :
The developers of BGMI introduce several in-game events and modes on festive days. During these events, you can get lamps by doing some tasks like completing missions, logging in daily, referring, etc. After getting lamps you can redeem them in the exchange for Gun Skins and other in-game items. Recently Krafton has introduced the New Year Exchange Event in the celebration of New Year 2022.
2. Milestone Rewards :
Krafton had introduced the Milestone Rewards program. In which you can get various in-game items like Gun Skins, Costumes, Coupon Crate Scrap, etc. Whenever the app crosses a predefined target of Downloads you will get rewards. Wherein users can manually claim the reward from the events section. With the achievement of each Milestone, you will get the predefined reward.
3. Redeem Codes :
The other way to get free Gun skin in BGMI is Redeem Codes. Redeem Codes are generally the Coupon codes that are applicable for a limited time of period. BGMI offers you a chance to win great gifts through Redeem Codes. You can get Gun Skins by just applying the Redeem Code, this is the easiest way of getting the gifts for which you will have to work hard in playing games, or spending money.
4. Survey Apps :
The Survey Apps are the platforms where you take surveys and give your opinions in exchange for rewards or cash. Also, BGMI will soon be going to launch its Survey App named BGMI Lite Official Survey. Other than this many apps like mGamer, Poll pay, Easy rewards are available online. Players can later utilize the rewards to purchase Gun Skins or Costumes from the in-game store.
5. Purchase with Silver Fragments & AG :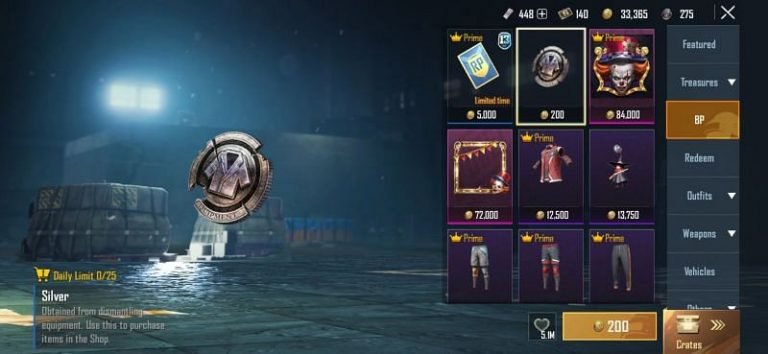 The game BGMI offers a special currency named Silver Fragments and AG (Ace Gold) with which players can buy various in-game items. Silver Fragments and Ace Gold are used to buy permanent outfits and Gun skins from the redeem section of the game. You can pick you favourite Gun skin with the exchange of Silver Fragments.
Disclosure: This post contains amazon affiliate links. When you buy through links on our website we may earn an affiliate commission.