Get ready, Free Fire MAX fans! The battle royale developers will celebrate the 6th anniversary, which promises to bring unique events and rewards. As the big day approaches, the suspense keeps building up, and the developers have something grand in store for us all.
On the sixth birthday, a most awaited campaign is set to kick off with tons of exclusive rewards. The campaign is filled with exciting stuff like new lobby music, a fresh loading screen, and many more surprises waiting around the corner.
Stay with us until the end, as we have gathered some leaked images of exclusive items that will be launched in the Free Fire 6th Anniversary Celebration.
Now, let's dive into the exciting details of the 6th Anniversary Celebration in Free Fire MAX.
The 6th Anniversary Celebration in Free Fire MAX:
The campaign's interface was unveiled; however, it's currently inactive. Players need to collect color chips through the thrilling Br and CS modes to activate it. Once they have gathered enough chips, players must insert them into the color cube alongside other participants. Through the collective efforts of players, the Free Fire 6th anniversary interface will be unlocked for everyone to enjoy. As a gesture of appreciation, the creators will reward all players with exclusive cosmetics for free upon opening the campaign.
6th Anniversary Celebrations: Date
This remarkable event was launched on June 30, 2023, and will stay on the Free Fire MAX Indian server until July 6, 2023. So, let's gear up for the adventure to collect Color Chips by playing CS and BR modes. Once you've gathered enough, you can exchange them for the 6th Anniversary Party Box.
Curious to know about the exciting gifts in this Special Party Box? Well, we have the leaked information for you. Brace yourself because inside, you'll find the captivating Riptide Trailblazer Bundle and four other collectibles bound to amaze you.
Here is the list of 6th Anniversary Special Party Box items:
Riptide Trailblazer Bundle
Pet Food
FF Gold
Diamond Royale Voucher
Bonfire
Unveiling the Upcoming Rewards: Free Fire 6th Anniversary Celebration
Besides the above-listed rewards, tons of other rewards will be released in the 6th Anniversary Celebration in Free Fire MAX. Popular data miners leaked some of the images that are posted below. While there is no official confirmation about the rewards, the information is subject to change.
1. Parachute
2. AN94 Bliss Popper
3. Motorbike
4. Hat
5. Emote
6. FF Luck Core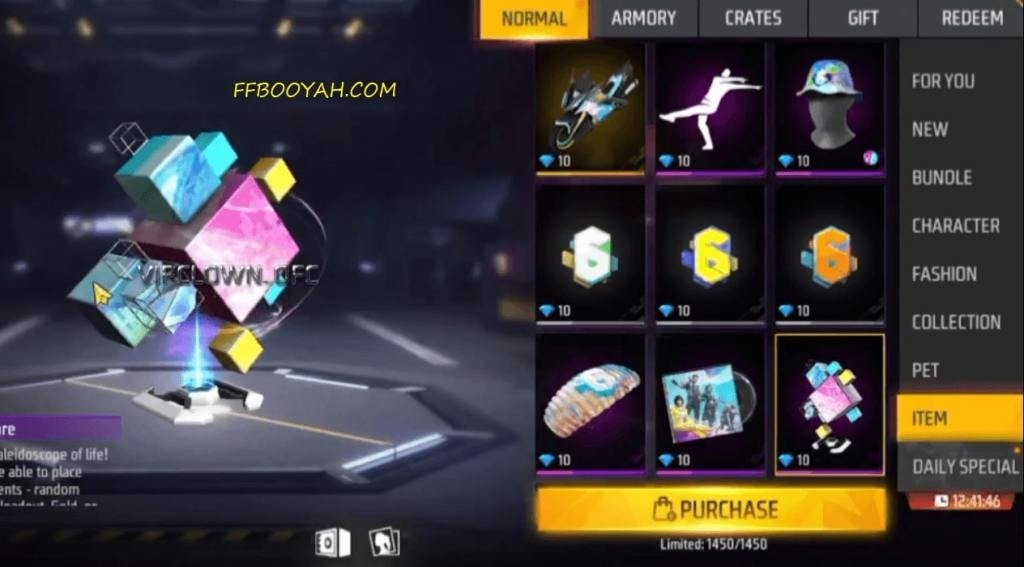 Also Read:
How To Get Free Diamonds in Free Fire?
Free Fire Max Free Emotes: 5 Ways To Get Free Emote
Disclosure: This post contains amazon affiliate links. When you buy through links on our website we may earn an affiliate commission.